Homeschoolers around the globe have rated numerous math curricula on the Homeschool Curriculum Reviews website and these 5 are currently the highest rated curricula.  Only curriculum with 5 or more ratings were considered for this list.  Is your favorite on this list?
Christian Light Education Math curriculum is a Christian-based program that comes in a series of workbooks or LightUnits for grades 1-12.
Here is what different users had to say about the math program: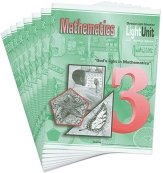 Yvonne said "We use CLE for our math until 8th grade. I love the spiral approach, the constant review and the workbook format. The explanations make it easy for the children to understand."
Barbra said "We started with CLE Math for Gr 1 and have continued for Gr 2. Repetition of materials provides a solid base for fact,s etc. Each Light Unit is based on a different theme e.g spring, visit to a zoo, which is used in the story problems and the intro to each LU. The course is easy to adjust if our son needs more/less work on a concept. Excellent material!"
LeAnna said "We love CLE math! The teachers manual is very easy to follow and the student books are very thorough and self explanatory. We are currently using grade 4. We love it! Very good for learning those math facts!"
Read more reviews or add your voice by completing a review of Christian Light Education curriculum at Homeschool Curriculum Reviews.
Math Mammoth is a secular mastery-based math curriculum for children from 1st to 8th grade.  The worktexts are inexpensive and can be downloaded and printed.
Here is what different users had to say about the math curriculum: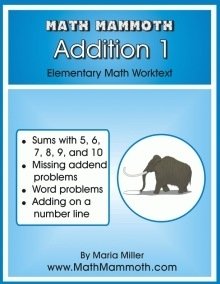 Sara said "This is a great math curriculum, everything is printable, you can reprint as many times as needed to enforce skills. Its super affordable, not too boring, and covers everything needed."
Lyn S said "I love everything about Math Mammoth!! We had tried a couple of other math programs that did not work for us. My son and daughter have different styles of learning so I wasn't sure if one math program would work for them. I was attracted to MM by the free assessment tests and worksheets. I really appreciated the chance to try before you buy. I downloaded the worksheets, had my children take the assessments, and we tried them out. The difference was night and day. Before MM, my children dreaded Math time, but with MM they really enjoyed their math time. I bought one year to make sure it suited us. 3 years later and we are all still fans of MM. My children love math and really understand the concepts. Maria is awesome and personally answers her emails, when you have questions."
Mary R. said "We have used grades 1-4 of this math program so far and we're big fans. I am pleased with how well my children have learned to do mental math, to "play" with numbers, and to recognize patterns as they have progressed through the curriculum. They enjoy the "puzzle corners" and word problems, which in my opinion are more interesting and challenging than those I've seen elsewhere."
Sarah Marie said "I WANT to rate this high because it seems so good and I love the price. Every time I bring this out the kids groan and they don't groan for school. We much prefer MUS and Singapore. I think that the practice problems somehow feel tedious… there are a lot more squeezed on a page than it first looks like. Part of my goal is to instill a love of learning, so even if this would have worked to teach concepts, it did not work to help my kids love math."
Read more reviews or add your voice by completing a Math Mammoth review at Homeschool Curriculum Reviews.
3.  Math U See 4.7 out of 5 stars
Math U See helps your child master math facts as well as math concepts. It comes with a DVD to help you know how to teach your children the lessons.  Levels are available for the beginner all the way through high school math.
Here is what different users had to say about the curriculum: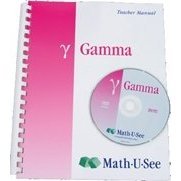 Jenny B said "I've homeschooled for over a decade and have used A LOT of math programs. I wish I would have started out with Math U See. Love it! I'll never switch again. I love the mastery approach where you don't move on until you know it. Or, conversely, if you know it you move on. No plodding through material you already know."
Paula said "Math U See is a great program for children that are visual learners. My 5 year old son is in Alpha and he really enjoys the teacher Steve. There are some things that I think can be confusing. For instance, my son had already learned his numbers and Steve had them re-learn 10-19 as one-ty one or one-ty nine. But that seemed to confuse my son for awhile. The only problem we have with the manipulatives is that my son will space out and start using them as "guys" and start playing instead of doing his math problems. Steve does not want them to count on their fingers and he goes through multiple lessons on how to add. My son still counts on his fingers, despite that. My son is doing math above his age, and that's what counts. I don't know how superior Math U See is at a basic level. We have done Khan Academy online and CTC and my son enjoys those immensely (because you can earn avatars) and CTC which gives short video lessons and tests."
Dishawna said "There are many reasons why we are glad we switched to math-u-see. The teacher does a lesson on DVD. It give a nice visual, as if you were in the classroom. It helps parents refresh or clarify themselves, so that can be of more assistance to the child. I like the tactile approach with the blocks, and I appreciate a curriculum realistic life examples.  When we started this curriculum, my students just started to 'get it.'"
Read more reviews or add your voice by completing a Math U See review at Homeschool Curriculum Reviews.
4.  Bob Jones 4.66 out of 5 stars
Bob Jones is a Christian-based math curriculum that is available from Kindergarten through Algebra 2 and Consumer Math.
Read what some users had to say about it: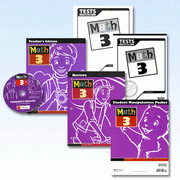 Nelia said "I have used Bob Jones curriculum with my kids starting in kindergarten-5th grade. I was homeschooled & used Bob Jones as a student too. I like the Christian perspective throughout the subjects. Their history is really good. My kids have enjoyed the math & English through 4th grade. I find the complete curriculum kind of pricey, but try to keep cost down by purchasing used whenever I can."
Paige said "I love Bob Jones. I just wish it was more affordable. My kids loved the characters in their Phonics and English and Math curriculums. We still sing the songs on the CD's often."
Seka said "I love Bob Jones curriculum. Colorful, fun, and very good coverage of subject learning. Worked great for my child but just so expensive for us. We are on a tight budget and just can't afford this curriculum. But it is SO GOOD!!! I wish we could afford it."
Read more reviews or add your voice by completing a Bob Jones review at Homeschool Curriculum Reviews.
5.  Saxon Math 4.41 out of 5 stars
Saxon Math uses a spiral approach to math learning and is available for all levels from Kindergarten through Calculus.
Users had this to say about the curriculum: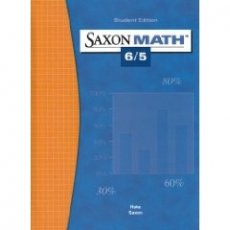 Yvonne said "I use Saxon for my children starting in the 8th/9th grade. It is so well written that my high school student is self teaching Algebra II, then we go over his work after he is done. I highly recommend Saxon."
Jade said "Love Saxons Math! My son who doesn't fair well with Math during his private school days loves it and understands it much better."
Andrea said "Love this program. We have been using this for 4 years. I have to admit I almost gave up on it two years ago. I felt one of my kids was just not getting it. However, we stuck with it and now are reaping the rewards. My kids are all doing great! It is so well laid out and covers everything!"
Teresa said "This is our second year with Saxon and I am so glad we made the switch! Last year we used Saxon 3. It was parent-dependent, but such a great incremental program. If your child is struggling with math or may have some learning gaps, this will help. Now we are in 5/4, which is more student-directed. Lessons are spelled out nicely, review is already built in, and lessons challenge but don't overwhelm. Great program!"
Diane said "We used the 5/4 and we're not impressed. My children had no troubles in math until we used this. While it is very easy to use, the content seemed disjointed and haphazard. My children dogs not like not knowing what concept would be covered in each lesson.
They became confused with math. When we got to high school, I felt uneasy. about presenting algebra, so I tried Saxon again, with the same result. It was easy for me to use, but confusing for my kids to understand. I do not recommend this product."
Read more reviews or add your voice by completing a Saxon Math review at Homeschool Curriculum Reviews.
What is your favorite math curriculum?  Please share in the comments.